I need to start this post by officially thanking Onkyo for the great customer service they gave me after my initial receiver arrived with a major issue, either due to a bad unit or to transport from the online retailer I purchased it from. On a late Friday night, the social media people on the Onkyo team replied to me through Twitter and helped me confirm the issue and start the replacement process.
Onkyo then went over the usual level of service as they did accept to replace my unit instead of sending it for repair as my retailer did not have any in stock to help me. Instead of being stuck without my home theater for weeks, the replacement unit was shipped on the next business day. This is tremendous support and it is definitively a good way to keep customers with the brand.
Having said that, I've been using the receiver for a week now and I can say that I'm very happy with the experience. To start, I picked the Onkyo TX-NR1030 because of its support of 11 channels. The receiver includes amplification for 9 channels and you can connect an additional stereo amplifier to go up to a reference Atmos implementation of 7.1.4. To do this, I added a AudioSource AMP-100 stereo power amplifier, simple but efficient and because it's used for the height back speaker, it can provide the required power for a good price.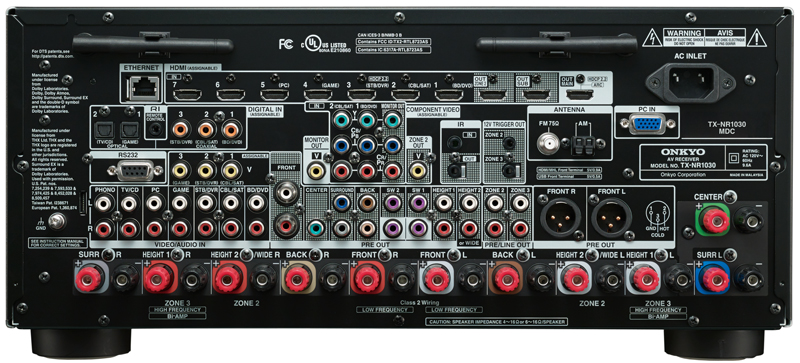 The switch from my previous system at 5.1.2 (with an Onkyo TX-NR737) is noticeable and a great improvement. Not only does the two additional height channels add a more dimensional effect to the height layer, but the addition of two surround speakers also support better the 360 degrees effect, even better with Atmos movies and object positioning. The TX-NR1030 has enough power to drive the 9 channels in a very efficient way and the sound quality is very good.
The Atmos demos (available as downloadable on Demo World) are impressive in 7.1.4 and the thing that surprises me is that different the trailers are now my favorite ones from when I tried in 5.1.2, mainly because of the added dimension and sense of movement.
The receiver configuration tools is quite well done and the AccuEQ calibration works well. I have a read a lot about it being inferior to Audyssey that was used before by Onkyo, but I cannot judge as I did not use it before. I played multiple sources with and without AccuEQ room correct enabled and my final selection is to keep it on as it improves the dynamics and the clarity of movies.
I also appreciate the net functionalities of the receiver, including DLNA and Spotify Connect. My only grudge with the feature is with the file server mode as it only support some shares and not the ones my router and NAS provide, it seems too tied to typical Windows file servers.
In a nutshell, I can say I'm very happy with the receiver and with the new 7.1.4 setup it can support. My only hope is that Onkyo will confirm an upgrade path for the receiver to DTS:X when it's officially announced next month, I'll keep you updated on this.