Since Ultra HD Blu-ray came along, I found myself in the annoying situation of watching 4K Blu-ray movies on my TV set instead of leveraging my dedicated home theater room. I felt like going back to the beginning of HD where I watched HD material on a HDTV because my projector was still 1080P, which again was not ideal.
I started to read on what would be possible for an updated in the home theater and with the pricing of true 4K projectors, I felt like I needed an option to do a bridge between now and when native 4K would become affordable. That's when I started to read about e-Shift products and became extremely interested by the JVC line based on discussions on AVForums and other online sources.
Still hesitating, I was lucky enough to have support from JVCKENWOOD Canada to get my hands on a review unit for a couple of months. Or so I thought ! After all this time, and some more, I still have the projector at home and there is no way you could convince me to part with it. To be honest, the second I started my first Blu-ray disc on it (did not even need 4K), I completely fell in love with the projector. I hope this review will explain why !
Image Quality
Of course this is the most important element of this review and as I just said the reason why I am extremely positive about the device. Just so you know, I was coming from a good quality HD projector, but clearly not to that level of quality. I had read everywhere about the quality of the blacks and the contrast on the JVC line and this is true. But what really impressed me is how crisp and precise everything look at 120″ with the extra density added by e-Shift. The fact that it really remove the screen door effect of the projection really makes a difference.
But on top of this, the color reproduction quality and the brightness of the device in general is extremely impressive. My dedicated room is completely light controlled and before calibration, whenever a clear image was shown, it was literally looking like daytime in the room, enough to be tough on the eyes. After adjusting everything though, the image just looks great and is always impressive. And with the auto-iris, the dark scenes look also really good. It's always surprising how black the projector can get and then really bright again once the scene warrants it.
4K Video Playback
I must say that I had initial issues with connectivity between the projector and the Samsung UBD-K8500, that were not reproducible on JVC's side, but all of that got fixed 100% after a firmware update (more on that later).
I was not convinced after reading on e-Shift if it would really make a difference, but I was proven wrong. The definition upgrade, even if it is not a true 4K display, are worth it and clearly noticeable when sourced with the right material. Of course, native 4K digital intermediate Ultra HD Blu-rays like The Amazing Spiderman 2 or Chappie really shine more than anything else.
HDR support is also there, of course not to the level of what the X750R can do, but it's also showing visual improvements over SDR content. One thing I had to do though is raise brightness to +3 on the player side for HDR content, to prevent a little bit of black crush.
3D Performance
If there was a surprise to me doing that review, it is the 3D performance of the projector. I have been willing to experiment with 3D in my room for a while, and I am amazed by the quality delivered by the projector for it. Of course there is a loss of brightness, but it can be easily compensated by adjusting the configuration for 3D compared to 2D playback. The depth level was impressive and there was limited crosstalk. As my image is projected on a wall, there is no retention of polarity on the image, so I ended up using extremly cheap 3D glasses for the kids (I kept the JVC ones for me :)) and everything is flawless. At 10$ a pair, no reason to not have some on hand for friends.
Menus and Configuration
Nothing negative to say here, everything is pretty straightforward to access and configuration was pretty smooth. Everything that needs to be configured is quickly accessible. Lens shift, zoom and focus are all digitally configured which of course allows for extremely precise adjustments.

Firmware Updates
On the more negative side, I need to say that I don't believe JVC does not have an USB based firmware update method in 2016 for those projector. Needing to purchase a USB -> COM adapter and a DB9 cable was a deception when those technologies are things of the past now. It really felft like 1995 at this point, and JVC should fix that as soon as possible.
Resolution Switch Responsiveness
The other thing that annoys me, and this is more of an issue because it's every time I use the projector, is that switching between resolution, most importantly between Full HD and 4K is ridiculously slow. We're talking about sometime 15s between resolutions, which make you miss a trailer on the Blu-ray or sometime even the beginning of the movie, forcing you to do move a chapter back once the switch is done. Again, not a showstopper by any means, but I hope this will get fixed by a firmware update.
Appearance
Quick note about the great visual appearance of the projector, extremely slick presentation. Coming from a smaller projector, it was a suprise to see the size of that thing in real life, but this is done with a quality build in mind.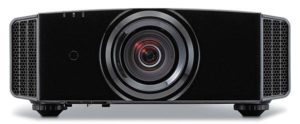 Conclusion
As I said in the into, I fell in love with the JVC DLA-X550R and I believe it is a huge improvement in my room, not only for 4K playback but also for the general image quality. I fell this is a perfect step to wait for 4K native projectors to become affordbable in a couple of years. This is also a confirmation that if they play their cards well, JVC will be my choice for a while to power my home theater room.
Again, thanks to JVCKENWOOD Canada from providing the device and letting me purchase it afterwards! If you are reading this site from Canada, I recommend you visit their website here to find a dealer and look at it for yourself.